+
Address
406-408, Devnandan Mega Mall, Opp. Sanyas Ashram, Ashram Rd, Ellisbridge, Ahmedabad, Gujarat 380006
Dear Reader,
We all know that WordPress is the most trusted and popular CMS empowering around 455 million websites across the world.
But, have you ever thought which is the best hosting service for a WordPress website?
We will explore the answer to this article. Let's have a glance at other important details first.
---
Points to Check While Selecting a WordPress Web Hosting
Selecting the right web host for your website is challenging. It is something really important that can either make or break your site. Hence, you are required to be very cautious while selecting a web host for your website.
There is a big checklist to think about while making a decision on the same. We will have a look at the most important ones of them here.
* Volume of Your Website Traffic
Every website has a different number of possible traffic. Some may have 5,000 visitors per month while others may have 50,000.
Hence, the first and a very important thing in the checklist is the predicted traffic volume of your site.
Have a glance on how much traffic your website is likely to have.
The answer to this question is highly important to select a hosting solution for the site. It will help you to determine whether you should adopt a shared hosting plan or go for a private one.
* Quality of Customer Service Offered by the Service Provider
The second important thing to consider in the list is the customer service given by the hosting provider.
Make sure the hosting provider is available round the clock whenever you face any issue while running your site.
Your site should run 24/7 without any problems for better results and profits.
* Selection Between Managed and Unmanaged Hosting Plan
The next important thing for you is making a choice between managed and unmanaged hosting plans.
Where unmanaged hosting plans are cheaper and budget-friendly, managed hosting plans are costly but offer more enhanced services.
---
Various Types of Web Hosting for WordPress
Web hosting plans are of many types from which you can make a choice as per your requirements. A brief description of these categories is given below
Dedicated WordPress Hosting
In this type of web hosting, every website has its own dedicated server with dedicated resources.
This type of server is the best fit to handle large volumes of traffic.
However, as the server is very costly, only big websites with a higher volume of traffic can afford them.
Shared WordPress Hosting
In this type of web hosting, many WordPress websites run on the same server and share the server resources.
Shared WordPress hosting is the most cost-friendly type of web hosting.
It is an ideal option if you are looking to host a small website, blog, or anything that does not expect a huge amount of traffic. However, you may experience the slow performance as the traffic towards the websites increases.
Managed WordPress Hosting
Managed wordpress hosting is a form of shared or VPS hosting in which the company offers a better speed and performance of the website.
In this type of hosting, your web host manages and takes care of a variety of your overheads including updates, installations, and security.
Managed wordpress hosting is a bit costlier as compared to traditional shared or VPS hosting, however, it provides extra services too.
Virtual Private Server (VPS)
In this type of web hosting, the hosting server is still shared, however, the number of websites sharing the server is less.
The one physical server is divided into multiple virtual servers so that every website can have a bunch of dedicated resources.
The primary advantage of this web hosting is your website's performance will not be degraded because of the traffic of other websites.
The Top Picks in the List
Here comes the most important topic of the article i.e. top picks in the list of the available web hosting providers. Let's begin the list with none other than Bluehost.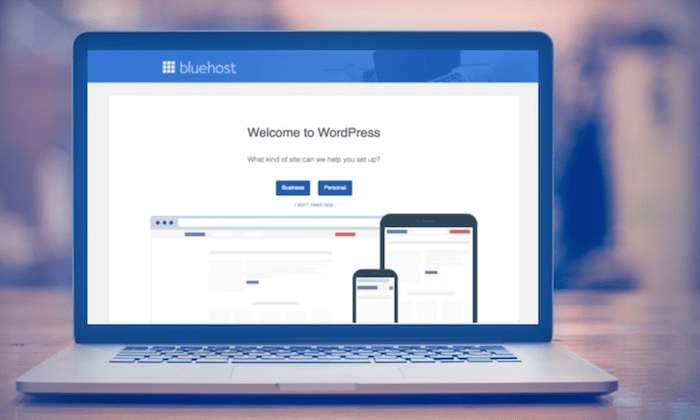 Bluehost is the best and the most popular among all WordPress hosting providers available in the market currently.
It is an excellent hosting provider to choose from if anyone wants to create a WordPress website from scratch.
The topmost features of Bluehost include free SSL certificate, free availability of numerous WordPress themes, automatic WordPress updates, and so on.
The pricing of the host begins from $2.95 per month and the provider offers great 24/7 customer support for your convenience.
Hostinger is yet another WordPress hosting provider that provides a fast and secure web hosting service.
The provider offers many significant benefits including easy setup of your website, 24/7 customer support, flexible pricing plans along 30 days money refund assurance (in case the user is not satisfied with the services).
The provider offers quite reasonable pricing plans that you can leverage without making any compromises to the work quality.
The third pick up in the list is Dreamhost.
Dreamhost is ruling the market for more than 10 years now and is one of the top recommendations given by WordPress.
The primary features offered by Dreamhost include automatic daily backups, automatic WordPress updates, free SSL certificate, free email hosting, and so on.
The Web host serves as an ideal fit regardless of your budget and website category.
One more unique thing about this hosting provider is it offers a 97 days money refund assurance. This kind of promise is perhaps not provided by any other hosting provider at the present date.
Nexcess is the best fit to enjoy a fully managed hosting experience for a range of platforms including WordPress, WooCommerce, Big Commerce, and Drupal.
The list of powerful features of the Nexcess web host comprises a premium SSL certificate, nightly backups, 99.99% uptime guarantee, proactive service monitoring, and many more.
The topmost benefits offered by providers include a scalable, speedy, and secured website with top-rated customer support.
WP engine is another big name in the arena of WordPress hosting on which more than 1 lakh customers rely to host their WordPress websites.
The provider offers quick, trustworthy, and well-secured hosting solutions for medium to large-sized websites.
The main features include authentic hosting architecture, excellent website speed, application performance checking, availability of premium WordPress themes, and likewise.
The pricing plans are divided into various categories namely startup, growth, scale, and custom containing different sets of features and facilities.
SiteGround is a managed web hosting recommended by Woo, WordPress, and Yoast.
The plans are divided into three categories namely StartUp, GrowBig, and GoGreek that differ in terms of the number of websites, webspace, and number of monthly visitors. All the plans, however, offer many similar facilities as well.
SiteGround offers excellent hosting support with 24/7 availability and extremely fast speed.
The top features offered by the web host include a free SSL certificate, email service, daily backups, staging tool, and so on.
Flywheel web host is a managed WordPress hosting ideal for freelancers and agencies.
It provides many important features to enjoy an effortless hosting experience. It enables users to add free SSL and update DNS, run and restore nightly backups, easily collaborate with coworkers, and so on.
A2 is another web hosting service that offers a range of hosting services including shared hosting, VPS hosting, dedicated hosting, WordPress hosting, etc.
Web hosting offers a varied range of benefits including faster website speed, free account migration, money-back guarantee, 99.9% uptime commitment, etc.
It is a developer-friendly hosting service that ensures a high performing website with excellent security.
The shared hosting plan starts at $2.99 per month and the managed plan starts at $11.99 per month.
Kinsta is another premium hosting service exemplary for small to large size websites.
It is one more fully managed WordPress host and a great alternative to the WP engine.
The feature list includes free migrations, daily backups, superb website speed, security, and so on.
The primary benefits offered by Kinsta are great customer support and user-friendliness.
Ubisoft, Buffer, Drift, Flippa, etc. are the companies already making use of Kinsta.
The per month pricing plans start from $30 and can go up to $100 depending on your needs and feature requirements.
---
The Takeaway
Picking up a suitable hosting plan is crucial to ensure the success of your WordPress website. A single wrong decision can lead to big losses for your business.
Hence folks, think, explore, and then make a decision for your business betterment.
If you need any kind of help in WordPress, you can hire WordPress developer from our team.
Contact Indylogix today for the best assistance. Have a nice day!
Vaibhav Pandya
Vaibhav Pandya is the Chief Operating Officer (COO) and Senior Contributing Editor at IndyLogix - Digital Marketing Agency, where he has spent 9+ years growing the organization and establishing it as a credible market leader. An operational executive by day and an avid writer by night, he loves to read, write, and speak about Digital Marketing, SEO, NFT, Blockchain, AI, Web 3.0, and more. Catch up with him at @pandyavaibh
Oct 05, 2018
The Best WordPress Hosting Deals
1. Why Do I Need To Search For a Good Deal? WordPress is the most popular content management system globally. This is without a doubt as their market share ...